"How can I secure our customers' experience when we're managing hundreds of different products, domains, and countless third-party tags? It feels impossible."
Uncover Gaps in Your Website to

Eliminate Costly Friction

and Protect Against Even More Costly Risks
It's no exaggeration to say that hundreds and thousands of tags could be loading on your site. In fact, trusted tags could even be loading unknown third-party tags serving undesired content to your customers and exposing you to costly fraud, formjacking and cross-site scripting (XXS), browser hijacking and ad injection, and compliance violations.
Like Swiss cheese, there are holes in your website. High-volume, high-value transactional sites are especially vunerable, potentially exposing millions of customers to burdensome risk.
Businesses can and should extend their standard risk assessment to include the impact of a breach caused by a third-party on their site.
But most sites operate without a CSP because its hard to build and even more challenging to maintain.
Blue Triangle's CSP Solution is the most robust, straightforward way to standardize your company's content security and flawlessly manage multiple CSPs to deliver frictionless, secure customer experiences.
Only Blue Triangle offers a

comprehensive, automated CSP Manager

to effortlessly audit and control third-party content in 4 simple steps.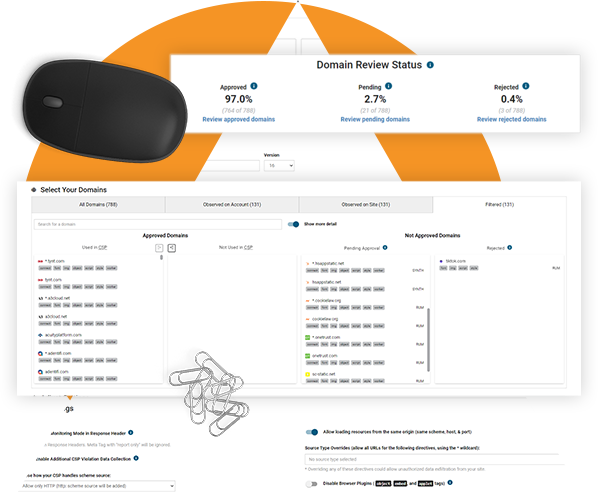 STEP 1: INVENTORY YOUR SITE'S FIRST AND THIRD-PARTY TAGS AND DOMAINS.
Discover in real-time all first and third-party domain loading on your websites and applications. Gain insights into domain ownership, pages they loaded on, and the specific files being loaded.
Our Continuous Experience Optimization platform promptly identifies and notifies you whenever an unauthorized user attempts to add a new tag.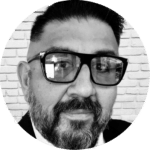 In a world where tagging is almost negligent, Blue Triangle has done a great job of visualizing and completing that with a governance module that really works to protect our sites.
Lead Performance Architect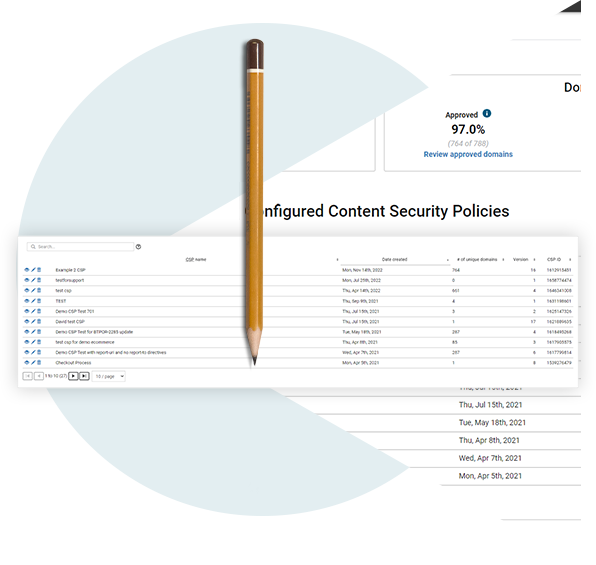 STEP 2: DETERMINE WHAT DOMAINS TO WHITELIST.
Using a simple, user-friendly check-box method, you then review every domain to quickly create a whitelist of approved domains, as well as what types of files they are allowed to load and who is allowed to add third-party content.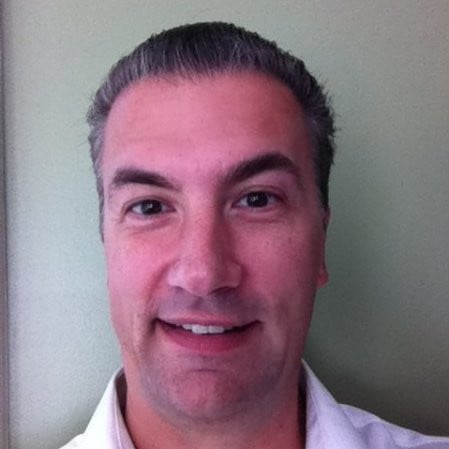 Easily obtaining the list of third party tags on our many sites and monitoring their performance so we can remove at the first sign of low performance.
eCommerce Solution Architect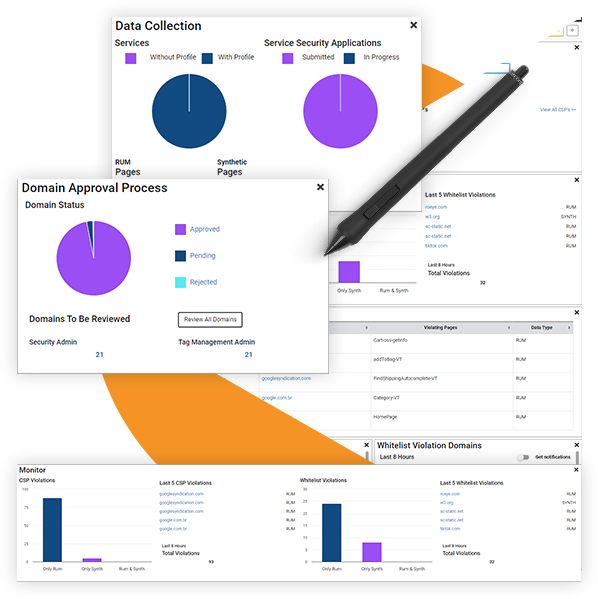 STEP 3: AUTO-GENERATE YOUR CONTENT SECURITY POLICY (CSP).
Once you approve the whitelist (which can include a two-factor authentication for safeguards), Blue Triangle automatically generates a compreensive and accurately coded CSP header and meta-tag that you can easily deploy.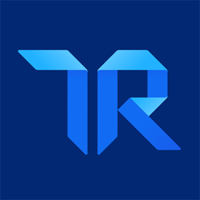 Blue Triangle provides a high level of security regarding credit card skimming which seems to become more and more rampant as time progresses.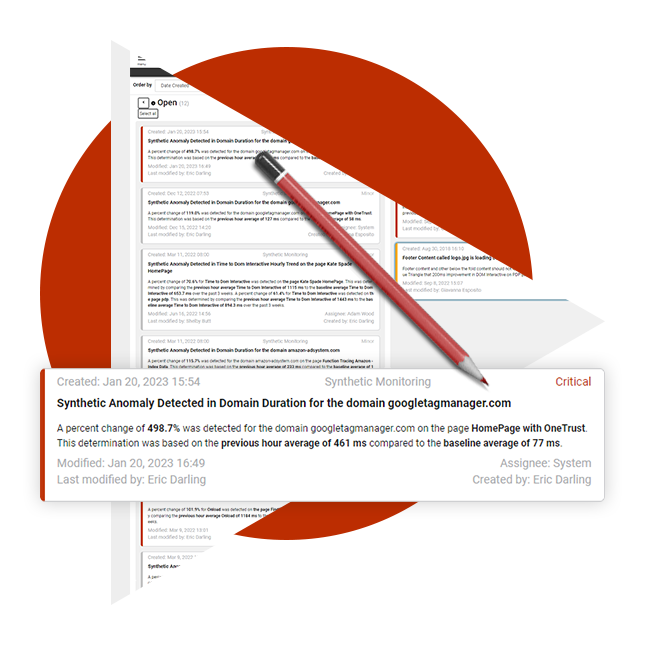 STEP 4: DEPLOY YOUR CSP AND STAY SECURE.
Once deployed, your robust, custom-built CSP blocks any unknown or malicious domains from accessing your digital properties.
Our Continuous Experience Optimization platform will alert you as soon as a domain you have not whitelisted tries to access your site.
In addition, for testing your new CSP, you can remain in report-only mode as you fine-tune and enhance your CSP until ready to start blocking unauthorized domains.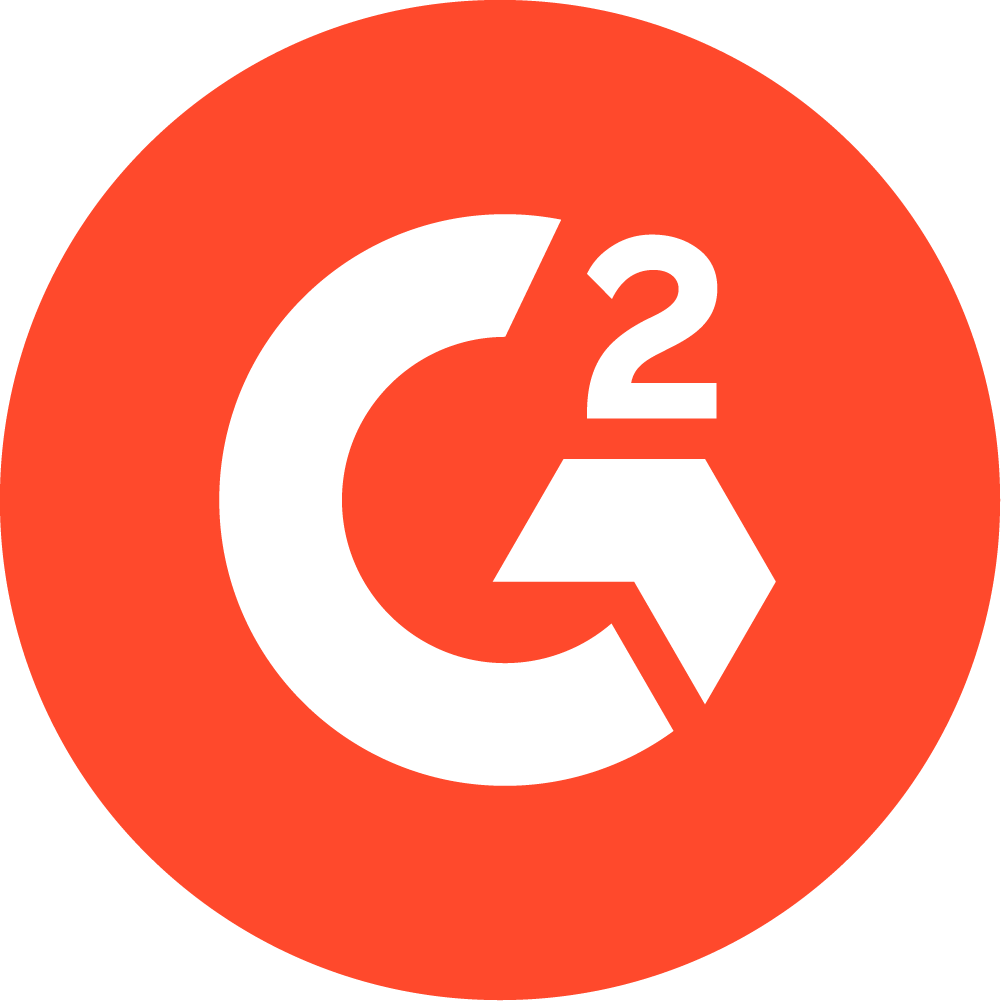 We've used the Real User Monitoring to look into a variety of topics, such as; bounce rates, top converting paths, campaign journey flows, revenue opportunities for tag governance, and CSP implementation to name a few.
Last year, we uncovered an unbelievable
$2.7 Billion

for many
of the world's leading online and omnichannel brands.





























Explore More Ways to Resolve Friction