Last year, we uncovered an unbelievable $2.7 Billion for many
of the world's leading online and omnichannel brands.





























As a result of Blue Triangle, we have shaved close to two seconds off of our dom complete measurement on our product pages. The speed improvement has not only helped our conversion rates, but our SEO rankings have also seen an uptick.

Blue Triangle is a unique optimization tool for me. I've never worked with any other solution that provides so much data about the business value of website performance and user experience. The biggest difference with Blue Triangle is the business opportunity reporting.
Artur Lanzellotti
Data Strategy Manager

Every company should have Blue Triangle.
Dan O'Reilly
Head of Group CRO

The first, best and only platform purpose-built for

Continuous Experience Optimization
Go from Guessing to KNOWING.
Quantify opportunity and know how much customer friction is costing you by page.
By leveraging Blue Triangle's customer journey analytics, you can calculate the real business impact of problems on your website. Instead of guessing how much friction is costing you, you'll know the impact precisely, page by page. And just as importantly, you'll understand the revenue opportunity to be gained by reducing friction so you can achieve maximum ROI.
Go Beyond Alerts to INSIGHTS.
Get a pulse of every factor impacting customer experiences with a unified customizable dashboard.
Every red light is not the same. Nor is every business opportunity. Blue Triangle gives you unified tracking of technical, security, business and marketing KPIs like broken links, out of stock, bounce and exit rates and much more – all in a single customizable dashboard. Digital experience monitoring is just part of the story. Imagine the power of actionable insights that tell you which problems are robbing you of the most revenue, so you can fix them before they impact your search traffic, paid media efficiency and conversion rates.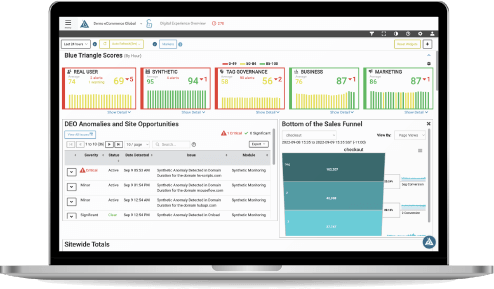 Evolve Finger Pointing to
PINPOINTING.
Leverage customer journey insights to provide prescriptive remediation guidance for your engineers.
How do you know if you're fixing the right problems at the right time? With customer journey analytics, you'll pinpoint the precise sources of friction in your customer's journey. You'll gain instantaneous visibility to waterfall, tag impact, function tracing and other factors to create a blueprint of how to resolve the most critical issues. Because fixing a problem that doesn't result in a better user experience or increased revenue is nothing but wasted time.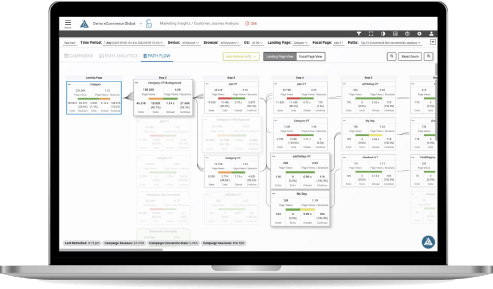 Replace Hunches with PROOF.
Validate your friction-removal efforts by linking technical remediation to customer experience improvements for true ROI.
Any DEM solution can tell you if your technical issues have been resolved. But has the customer experience improved? Did it result in a positive ROI? Only Blue Triangle enables you to validate that your remediation efforts achieved or exceeded the expected outcomes because only Blue Triangle starts by quantifying the revenue opportunity. Go beyond technical resolution to indisputable proof as shown with a positive ROI.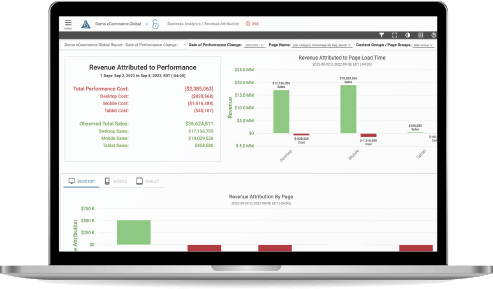 See How Your Website Measures Up
How does your website stack up against the speed and performance of your peers? Dare to compare with our industry benchmarks powered by synthetic monitoring.
Impressive performance. Undying loyalty.
With the highest G2 and NPS scores in the industry, it's easy to see how Blue Triangle has turned impressive business performance into undying customer loyalty.
What is friction stealing from you?
Revenue-robbing friction doesn't just cost you. It funds your competitors. How much are you losing?